John W. Lambert: built the first American automobile
John William Lambert was the third of ten children, born on January 29, 1860 to farming parents who had settled in Ohio before the Civil War after leaving Lost Mountain, Cambria County, Pennsylvania. The family farm of John's birth was near Mechanicsburg, Ohio. There were aunts and uncles and cousins nearby. During the War, John's father provided produce and leather for Mr. Lincoln's army and after the war, moved his family to Hillgrove, in Darke County, Ohio, near the Indiana border. John's father joined the post-war manufacturing boom. He made wagon and carriage parts, all wooden, of course, and mostly poles and shafts, but also wheels and smaller farming tools. When John was 16 he patented a corn planter that his family produced and sold nationwide. In its time, it revolutionized farming. He also invented a hay rake and loader. On a trip to a local tannery, John's father showed John a coal gas engine which stuck in his mind.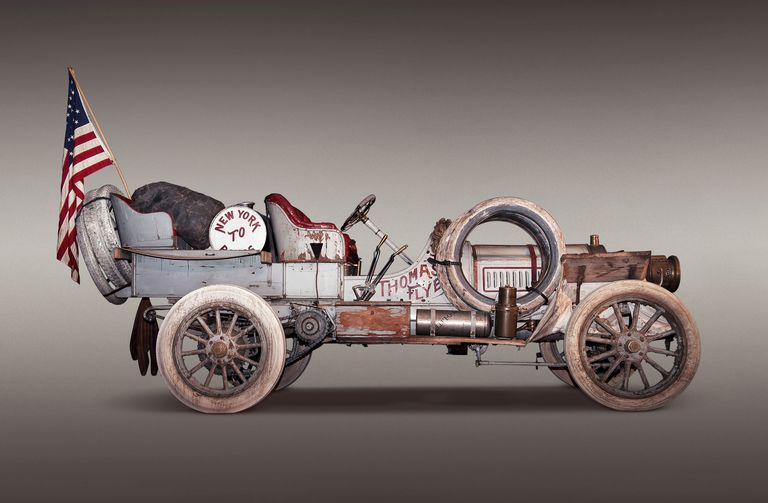 At 25 he moved up to Van Wert County to a little town called Enterprise (now Ohio City), at the cross of three railroad lines. He built a timber mill north of town, a granary on the RR track and with his wife established the town by building a Town Hall, a jail, and a hardware store. It was here that he designed, built and drove his three-wheeled gasoline powered vehicle with its surried top. It was designed to carry the weight of the motor, not be propelled by a horse. Although there were experimental models of steam-powered buggies and electric buggies, John's was the first to use gasoline. Although he and his family promoted this horseless carriage, they had no orders. Instead they went into manufacturing a stationery version of the gas engine and called it The Buckeye. It sold like hotcakes!
John Lambert holds the first complete gasoline engine patent in America. He held a patent for the engine carburetor which he called the vaporizer, from his first gasoline-propelled 1891 horseless carriage.
John never gave up on his idea of a commercially-successful gasoline-powered car. He and his friend Elwood Haynes entered their own models in the 1895 Chicago Tribune road race, although neither competed, as the day was bitter cold and snowy. Toward the end of that century John developed a four-wheeled model, built a prototype and gave it to his daughter, 16-year-old Mae. He took it to a car show in Chicago, one of the very first car shows, and met commercial success. In 1902 the Lambert family began to build and sell cars, joining a tiny but growing number of car manufacturers. Every Lambert model was, of course, handmade and showed expert mechanics and tailored style and every car John sold throughout his 14-year career had his signature gradual transmission. The Union car was first, built between Union City, Ohio and Anderson, Indiana. By 1910 The Lambert Automobile Manufacturing Company was selling over 1000 models a year and employed over 600. They produced Lambert automobiles, trucks, tractors, streetcars and fire trucks.
With the start of World War One, the Lambert facilities were turned over to the War Department and they made fire trucks for the Allied effort. After the War, with Henry Ford set to make automobile history, John did not resume the Lambert brand. He continued to invent. One project he patented was a car door lock with which he struck a deal with Ford.
John Lambert lost his automobile fortune in a bank failure in 1929. Family described his lack of reaction to this event and he continued to work on his inventions.
In his eighties, John patented a metal yard rake and set up production of our modern lawn rake. He died at the age of 92, nearly blind, but still inventing. He designed braces for laying a wooden floor and made a hand-triggered pancake flipper for his wife. He had over 600 patents when he died in the spring of 1952. He is buried with extended family in Maplewood Cemetery, Anderson, Indiana. In his day he was famous for his friction drive and had the title Father of the Gradual Transmission.
John Lambert did not champion his achievement of building the first car in America to run by gas. He spoke of that prototype, but kept his promise to a friend so that friend could advertize his model as The First. His son, however, was not shy about establishing for history exactly what his inventive and visionary father did. John Lambert made the first car in America to run by gas.